Helping People Thrive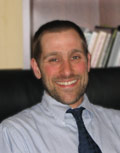 I love what I do!  As a psychotherapist for the past 17 years I've been lucky to learn about many different modalities of healing.  I've enjoyed using massage, Trauma Releasing Exercises, mindfulness, EMDR, CBT, DBT, Yoga, Qi Gong, IFS, etc in the consulting room.
I'm privileged to witness my clients changing everyday right before my eyes.  Ever since I've combined massage and psychotherapy the amount of change I've witnessed in clients has increased dramatically.  Clients who have talked over their problems for years are appreciating the results of adding the body-based modalities I offer.
Interested in only talk therapy or only body work?  No problem.  I'll work with you as you are.  In fact, you get to chose what form of treatment you want at every session.  Change is possible.  My job is to help you thrive!
Many times the hardest part of therapy is making the first contact with a provider.  If you can contact me, I believe you can change!